Tokyo~Itoigawa 2010 race report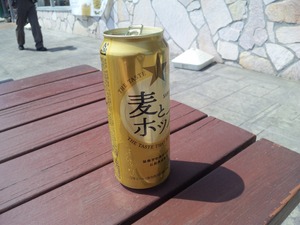 Friday - one for the bus!
ハットトリックじょんのび!

土曜日は第39回東京ー糸魚川に参加しました。

金曜日の昼に柏崎を出て、夕方東京に着きました。いつものホテルに泊まりました。僕は特別にベジタリアン料理を作ってもらい嬉しいじょんのび!皆さんじょんのびガソリンも大分飲んだね。ビールのお陰で良く眠れました。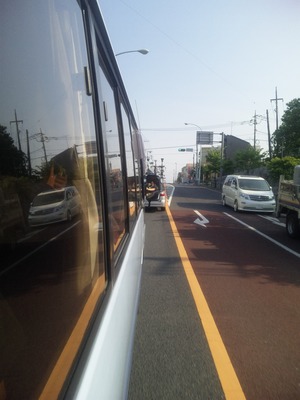 arriving into Tokyo
スタートタイムは一番遅い6時でした。6時にスタートしたのは前回のトップフィニッシュ選手でした。北野さん、丸山さん、TOMさん、ナルシマの近藤さんと金子さん、オーベストの西谷さん、早い人ばっかりでした。

START to CP1

スタートしてからLUDWIGさんとTOMさんの後ろで三番目に走りました。登りでなかなか良いペースだったのに、なぜか前に出てしまいました。オールアウトにならないように170HR位で走りました。そこで咳が出はじめました。苦しい!止まらない!オールオーバー?

なんとか峠に着いて、下りで頑張って、西谷さんたちに追いつきました。TOMさんが前に行ったので僕も行ってしまって、二人になりました。
時々後ろを見て、まだ来ない?まだ来ない?やっと3人(北野さん、西谷さん、菅原さん)が登りの所できました。一緒に行こうと思っていたけどまた咳だ!辛い!止まらない!オールオーバーじょんのび?

同じように頑張って走って3人に追いつきました。それからCP1まで4人のローテーションでした。西谷さんが前に出ると早いけどついて行ける。北野さんもいつも同様上手く引っ張ってくれました。
菅原さんは強かったけどハイペースで短時間引っ張って、ちょっと困りました。そんなかんじで走ると糸魚川前にオールアウトになると思いました。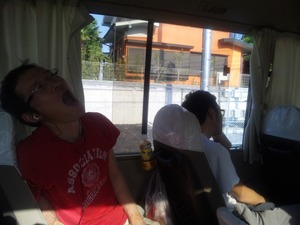 Maru takes a power nap!
CP1-CP2

CP1で菅原さんがF1みたいなピットインして逃げました!まだまだ皆と一緒に走ったほうが良いだろと思いました。CP2まで3人(西谷さん、北野さん、僕)のローテーションで走りました。
CP2-CP3
そのまま3人のローテーションで行きました。でもなぜか大変になってきました。ちょっと登っただけで180位HRになっていました。それで西谷さんについて行けずギャップができてしまいました。北野さんは一人で西谷さんに追いつきました。さすが!

ギャップがどんどん大きくなりました。とても危ない所でした。頭の中で"まだあと200キロもあるよ!"と何回も言って、自分のペースとリズムを取り戻りました。富士見峠でやっと調子が良くなりました。28キロ位で登りました。そこで菅原さんをパスしました。下りで北野さんに会いました。
A"二人で行きましょう!"
K"はい。でもついていけなかったら先に行って"
A"大丈夫だろ!"

でも5分後に後ろを見たら北野さんがいませんでした。待っていなくてごめんなさい。それから西谷さんに追いつくように頑張って走りました。諏訪湖の後にまた会いました。"お待たせしました!"

公園の登りで西谷さんがずっとダンシングで上がりました。スゲエ!さすが小川チャンピオン!ついて行くのは無理じょんのび!またCP3で会いました!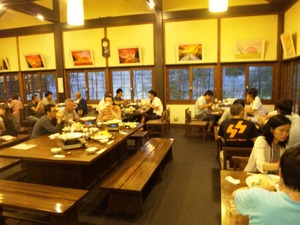 great food and booze at the hotel
CP3-CP4

二人でローテーションしました。松本は道が良くなかったので、トレーニングホイールで走ってよかったと思いました。去年と一昨年もスタートからゴールまで一人で走りました。二人で走ると全然楽ですね。話しながら走りました。西谷さんはいい人で楽しい話しができました。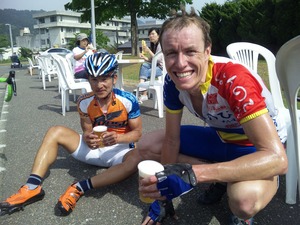 at the goal with Nishitani san
CP4-GOAL

そのまま二人のローテーションで走りました。仲良く走ってきたのに最後にはだれか一人が優勝する…というのはちょっと残念ですね。1位でも2位でも嬉しいけど、勝負しないとダメですね。色々なシナリオを考えました。でもどう勝負するかは前もって考えたほうが良いと思い、決めました。

急にやったら悪いと思って、最後の信号で待っている時に"ラストだよ!"と言いました
青信号!GO!
アウタトップ!ダンシング!エアロバー!50kmph!

でも後ろにいる!残り300m位!きました!前にいる!ついて行かなくちゃ!大丈夫!行ける!残り150m位!チャンス!前に行く!MAX!来ない!来ない!ゴール!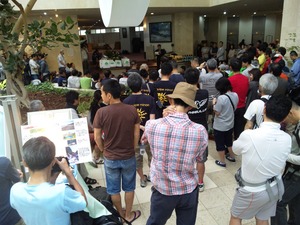 awards ceremony
300キロのレースをゴールスプリントで決めるのは良くないでした。それに西谷さんはゴールの位置がよく分からなかったのかも…すみませんでした。

ゴールでイングリッシュジェントルマンみたいにビールを買ってあげました。西谷さん本当にありがとうじょんのび!

そのあと温泉、飲み会、一日オールアウトじょんのび!

じょんのびの皆さん楽しい二日間をありがとうございました。サポートの皆さん本当にありがとうございました。来年もよろしくじょんのび!
Official result:
1st, 8:31:58, 34.17 kmph
Polar HR data:
8:00:25, 297.4 km, 37.1 kmph, 89 cadence, 2460m climbing, 5466 kcal, 151 AV HR, 185 MAX HR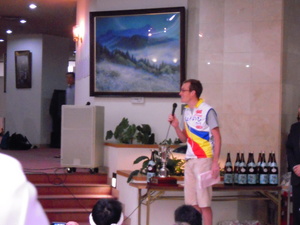 got any Stone Roses?
Hatrick じょんのび!

On Saturday I rode in the 39th Tokyo~Itoigawa classic.
We left Kashiwazaki around noon and arrived in Tokyo late afternoon. We stayed in the same hotel as usual and I was really happy that they prepared some wonderful vegetarian food like they always do. We all had our fill of じょんのび gasoline too. Thanks to the beer I slept really well.
My start time the next morning was 6am, the last starting time. The 6am group consists of those who posted the best times last year. Kitano san, Maruyama san, Tom, Narushima Friend's Kondo san and Kaneko san, and Ovest's Nishitani san – all fast riders.

START to CP1

From the start I sat in 3rd position behind Ludwig and Tom. They were setting a good pace on the climb but for some reason I soon found myself sat on the front. I didn't want to push too hard so I kept an eye on my heart rate around the 170 mark. And then the coughing started! I can't breath! It won't stop! All over?
I struggled up to the top of the pass and rode hard on the descent to get back to Nishitani san and co. Tom went off the front and I followed. We became two. I looked back now and again. Aren't they coming? Aren't they coming? And then came three (Kitano san, Nishitani san and Sugawara san) just as we started the second longish climb. I thought I need to jump on here … … and then the coughing started again! Crap! It won't stop! All over じょんのび?
In the same manner I dug deep to get back across after the climb. From there until CP1 we rotated as a foursome. When Nishitani san went up front the pace was high but it was comfortable to follow. Kitano san rotated perfectly as always. Sugawara san was strong but his pulls were far too aggressive and short for my liking. I thought if we ride like this all the way to Itoigawa we're in for trouble.
CP1-CP2

At CP1 Sugawara san had an F1-style pit stop and made it clear he wasn't interested in riding in a group. I thought at this point it has to be better to ride together. Until CP2 the three of us(Nishitani san, Kitano san and me)rotated together.

CP2-CP3

We kept going like that from CP2 as well. However, something wasn't right, I was struggling on the short inclines watching my heart rate rise to around the 180 mark. It came to the point where I couldn't hold Nishitani san's wheel anymore and he had a gap on us. Kitano san crossed the gap alone. Good on you!
I watched with despair as the gap grew and grew. I kept saying to myself "there's 200km to go, there's 200km to go" and forced myself back to my own pace and rhythm. As I started the climb of Fujimi Pass I started to feel good. I got a good rhythm going and was climbing at around 28kmph. It was there that I passed Sugawara san. On the descent I caught up with Kitano san.
A "Let's go together!"
K "Yeh. But if I can't keep up don't wait for me."
A "What you talking about!"

But 5 minutes later I looked back and he was gone. I'm sorry I didn't wait for you. From that point I dug in to get across to Nishitani san. Just as we left Lake Suwa I caught up with him. "Sorry to keep you waiting!"

On the steep climb up through the park Nishitani san was out of the saddle all the way. I saw before my own eyes why he was last year's Ogawa champion. There was no way I could keep up! I met him again at CP3!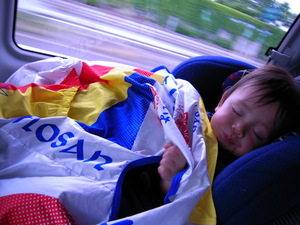 Luke - mate thanks for waiting at the finish!
CP3-CP4

The two of us rotated together. The road through Matsumoto was in a bad state of repair and I was kind of glad I was on my bomb-proof training wheels. For the last 2 years I've ridden this race solo from start to finish so this time it was great to have some company. We chatted as we rode and he seemed like a nice bloke so we had a few good conversations.
CP4-GOAL

We kept the teamwork going. After riding so well together it's a shame that someone has to take the win in the end. I'd have been happy with 1st or 2nd but you have to contest the win. I thought of all the different finishing scenarios as we rode. But you can't leave it to chance. You have to make a plan and stick to it. I made my plan.
It would've been wrong to jump him, so as we were waiting at the last traffic light I said to him "This is it then!"
The light turned green! GO!

In the big gear! Out of the saddle! Onto the aerobars! 50kmph!

But he's behind me! 300m to go! Here he comes! He's in front! I've got to get his wheel! I'm on! Here we go! 150m to go! Now's the chance! I'm in front! To the max! He's not coming! He's not coming! Goal!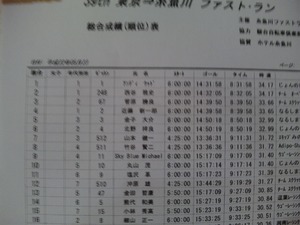 the results are in
It's not great for a 300km race to end in a sprint. Also I feel that maybe Nishitani san didn't know the finish like I did. Sorry about that.
At the goal, like a true English gent, I bought him a beer to say thank you. Nishitani san I really appreciate having the chance to ride with you!
After that was the onsen, the party, all out じょんのび!

Thank you all the じょんのびTIME guys for 2 great days. And a special thanks to all the support staff without whom it wouldn't be possible. See you next year!
Official result:
1st, 8:31:58, 34.17 kmph
Polar HR data:
8:00:25, 297.4 km, 37.1 kmph, 89 cadence, 2460m climbing, 5466 kcal, 151 AV HR, 185 MAX HR