Tokyo ~ Itoigawa 2012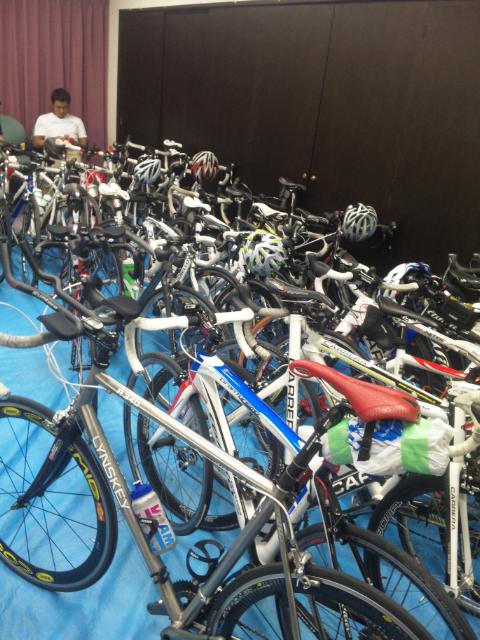 This weekend was Tokyo~Itoigawa. じょんのびTIME's start list? Over 30 riders!
東京糸魚川に行ってきました。じょんのびタイムの参加人数?30人以上!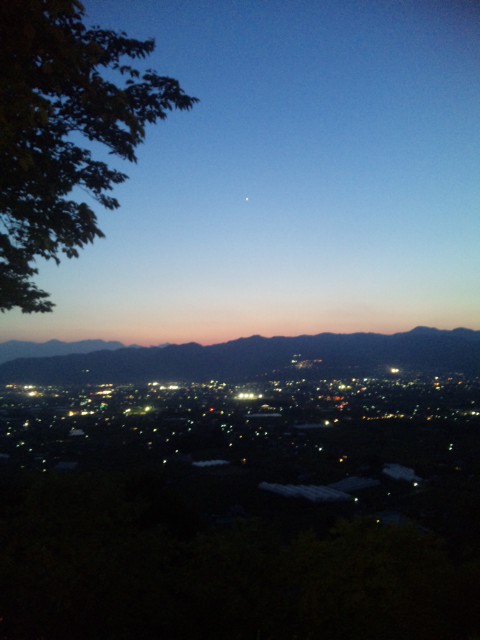 The night before we stayed at a winery in Yamanashi. The evening sunset during the BBQ and the night view from the rotenburo was fantastic.
前日ワイナリーに泊まりました。BBQのサンセットと露天風呂のナイトビューが最高でした。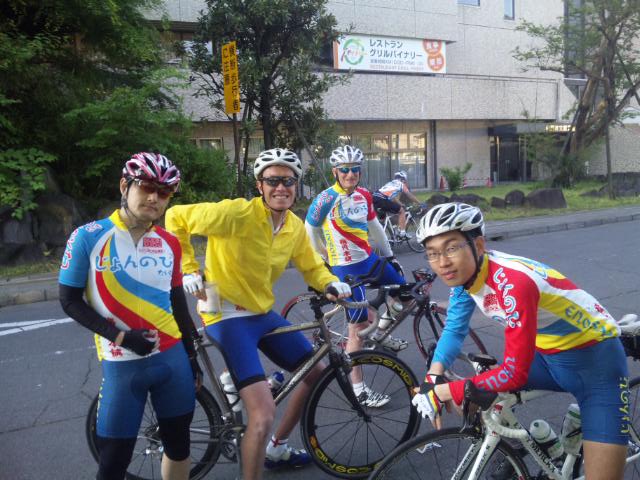 Starting at 6am, 4 じょんのびTIME guys (including Tom - thanks for everything!), 3 guys from another team and one more guy, making a total of 8.
スタート時間は6時。じょんのびタイム4人、他のチームの3人、もう1人の選手で、8人でした。
Riding on the front most of the way to CP1 (95km) I recorded the best time.
ほとんど前で引っ張って走って、CP1(95キロ)ではベストタイムでした。
From here, time lost was due to two things.
1. The guys from the other team refused to come to the front. If we got them on the front they would drop the pace on purpose to force us to push on again.
(I tried a few attacks, but they were strong enough to hold my wheel, which made it even more frustrating)
2. In this situation, spending long periods on the front, you are conscious of the prospect of pulling them all the way to Itoigawa only to be jumped at the end. And so you can't ride full gas…
Tick, tick, tick goes the clock.
僕がアタックすればついて来るけど前に出ない。

2.僕はほとんど前を引っ張っているけど"糸魚川まで引っ張ってあげれば最低だ"と思いフルガスで走りませんでした。

CP2から長野市までは本当に"サイクリング"みたいでした。
Tick, tick, tick goes the clock.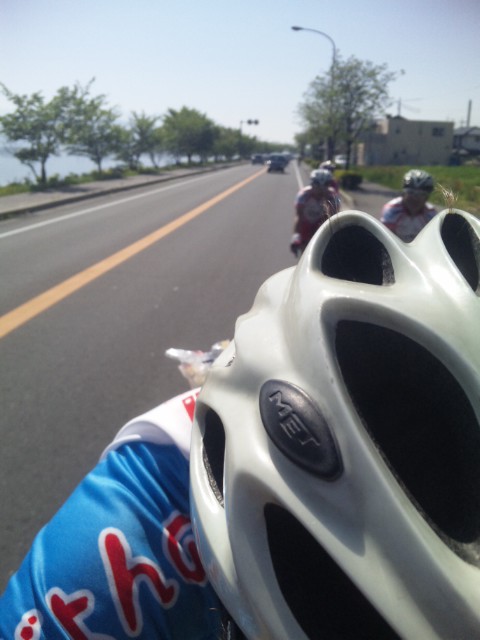 Before reaching Nagano I was in a group of 3 with 2 guys from the other team. We were going at cycling pace. They refusing to work. Me getting more and more annoyed (hey, I'm a difficult person to make angry!) Bloody hell I've pulled them this far. They won't come through. I stopped once and they stopped with me! And I can't seem to get away…
I played a dirty trick. And I'm quite proud of it. I faked a cramp entering the tunnel just before the split in the road at Nagano. Never seen them move so fast! Like 2 kids on the final bell before the school holidays. They went left. I went right. Full gas through town. Up the long climb to Nojiriko. CP3.
長野の手前の道が別れるところでやっと別々になりました。ペースアップして、野尻まで登って、CP3。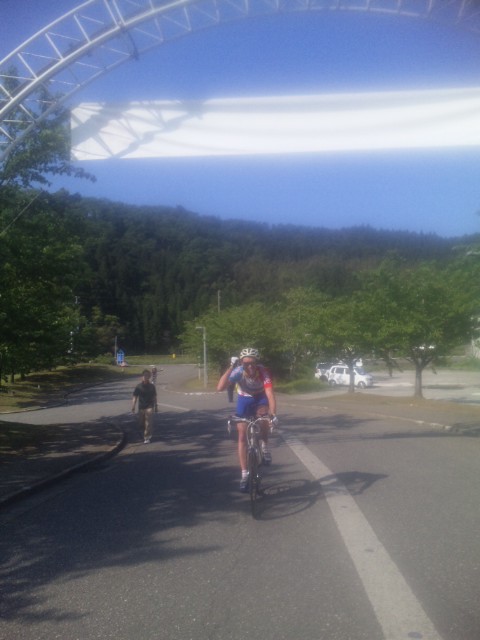 The long descent into Joetsu. Not as fast as usual due a super strong headwind. I feel alright. I'm confident I'm building a good gap. So much so I even jump into 7-11 for a couple of bottles of coke.
Down the coast. Wind on my back. Flying now. 40 kmph all the way.
I post the best time between CP3 and the goal. Cross the line. Stamp the card. Pose for a victory photo...
ここからTTモード。150HR。90ケイデンス。上越まで下って、何とかコーラ飲みたいな!コンビニに入って。海岸で走って。風がフローだ!楽しい!40キロキープ。

CP3~ゴールまでのベストタイムで優勝かなと思って、ガッツポーズ写真をとってもらいました。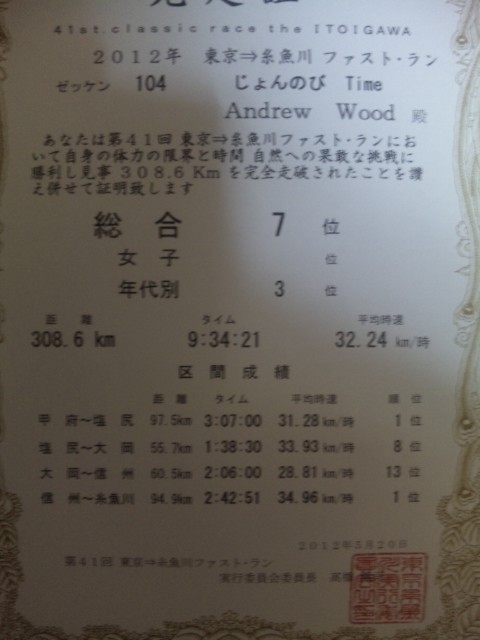 But wait! I'm only 7th…..
I was disappointed but when I saw the results and saw that Kondo san (5am start) had won, I was almost happier than if I'd won myself. Congratulations! To return the trophy to the guy who I took it off 4 years ago and to a guy who I really respect, doesn't feel bad at all. I'll be coming back for it next year!
By the way, the new course is much more scenic, and arguably much tougher!
じょんのびTIME guys well done!
でも7位だった!恥ずかしい!

残念。でもリザルト見たら5時スタートした近藤さんが優勝!うれしい!おめでとう!

4年前に近藤さんからもらったトロフィーをかえしました。また来年もらうぞ!
ところで、ニューコースは景色がいいですね。でも前よりキツイかな!

じょんのびタイムの皆さん、お疲れ様でした!
Thursday/ Friday: rest day
Saturday: Toito (9h 05 mins, 310 km, 33.5 kmph, 145/177 HR, 7236 kcal, 85 cadence)
Sunday: rest day
トラックバック(0)
このブログ記事を参照しているブログ一覧: Tokyo ~ Itoigawa 2012
このブログ記事に対するトラックバックURL: http://www.jyonnobitime.com/mt/mt-tb.cgi/2256