strange breed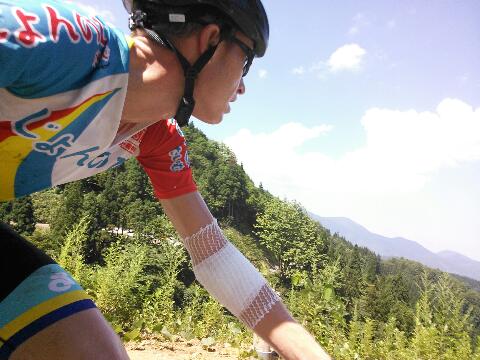 Ahhhh. First crash this year.
A beautiful ride on Thursday. The jyonnobi rollercoater.
A crash 10ks from home.
My fault. The gears have been out of synch recently. Playing with the gears. Watching the cassette. Straight into a rice field!
Cyclists are a strange breed.
First you check your kit. No holes! Great! Shoes? No scuffs! Cool!
Next check the bike. Handlebars are straight. Derrailleur looks okay. Rideable!
Last check the body. The usual road rash on the left leg. Always crash on your left - derrailleur up! Some road rash on the chest too. The price of an open jersey.
Lots of blood on the left arm. A deep hole in the elbow. That will need stitches.
I'm covered in mud too. Half laughing, half crying!
Home for a shower. The joy of washing road rash!
To the hospital. X-rays. Stitches. In and out in 30 minutes. Quicker than a haircut!
Some liquid pain killers last night. Recovery ride today.
Rest tomorrow. Long ride on Sunday.
Thursday's training: Road (85 km, 1,100 m climbing)
Friday's training: Road (60 km, 800 m climbing)
トラックバック(0)
このブログ記事を参照しているブログ一覧: strange breed
このブログ記事に対するトラックバックURL: http://www.jyonnobitime.com/mt/mt-tb.cgi/2809