november spawned a monster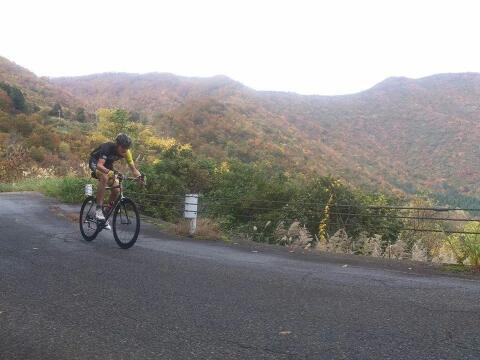 I've been riding easy all week. Taking photos. Enjoying the beautiful autumn weather.
A commute and some rollers on Thursday. All tempo stuff.
I plan the same on Friday. But then... I get a mail from Nishihiro san.
"I'm going to Komura Pass".
"Me too."
On the way, "Where are you?" I ask. "Climbing the pass. TT?"
All the motivation I need. Cat and mouse time! At the foot of the pass I'm already at LT 170 HR. Hold this through the steep sections.
The gradient eases. Into the big ring. Hammer time. The Grinderman!
This kind of riding is completely unnecessary. It's November tomorrow! The next race is 4 months away! November spawned a monster!
Nishihiro san is waiting on the last hairpin. Camera in hand. Got to put on a show now! Full gas!
Round the corner. The tricky last section. 190 HR over the top. Boooooom!
Love it! Absolutely love it! Can't beat the feeling! Like staring death in the face! And when better than Halloween!?
Thursday's training:
Road (26 km)
Rollers (1h)
Friday's training: Road (46 km, 600 m climbing)