2014 race report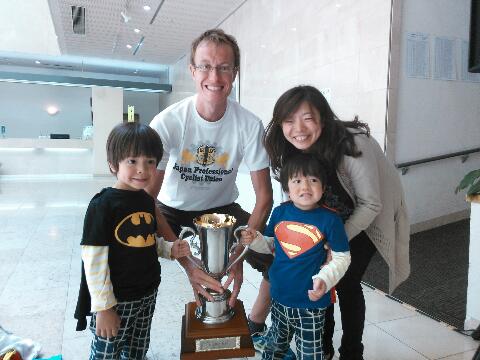 March
 Tokyo Enduro River Stage. 3 man team. Happy to average 40 kmph for my solo efforts. Result: 10th of 500 teams
April
 JCRC Gunma CSC S class (60 km, 10 laps) Finished in the top group behind a 3 man breakaway. Result: 10th.
May
 Tokyo~Itoigawa (304 km). I look forward to this every year. Solo effort from start to finish. My 6th win. Result: 1st (303 km, 33 kmph, 9:12)
June
 Uchinada TTT. Rode with Team Fins. One man dropped. One man crashed. Revenge this year. Result: 7th (50 s off the top)
 Uchinada RR. 4 laps. In a 4 man break for 3 laps. Caught on the last lap. Result: finished at the back of the top group.
July
 JBCF Norikura hill climb. Found my climbing legs in the summer, so went back to Norikura. An hour full gas. Happy with my race. Result: 6th.

August
 Shiori Pass hillclimb. Too steep for me! Result: 11th
 Jyonnobi 110 km marathon. In a break again from the 2nd lap. After being caught, I didn't have the legs to go again with the winning move. Survival mode. Result: 5th
September
 Niigata Hill Climb. I did some good rides on Yahiko prior to the event. A hard effort but slower than training the week before. (This year I will be looking at my training much more closely) Result: 9th
 JBCF Minami Uonuma RR. I did a good ride here in training too. Had a cold on race day. Was active but couldn't go as fast as I wanted on the last climb. Result: 16th
October
 JCRC Gunma CSC (120 km). Had 2 friends in the break up the road. Sat in the bunch until they were dropped from the break. Jumped the group on the last lap. Finished alone behind the 3 survivors of the breakaway. Happy with the effort. Result: 4th
2015 Objectives
1 To follow a structured training program
2 To use power to train, test and monitor progress
3 To focus and build on my strengths - steady efforts, long duration
2015 Goals
To win Tokyo~Itoigawa with new course record (sub 8:49)
To win Fuji challenge 300 (sub 8h)
To win Motegi 7h (on the nose!)
 
トラックバック(0)
このブログ記事を参照しているブログ一覧: 2014 race report
このブログ記事に対するトラックバックURL: http://www.jyonnobitime.com/mt/mt-tb.cgi/2903