じょんのびマラソン2014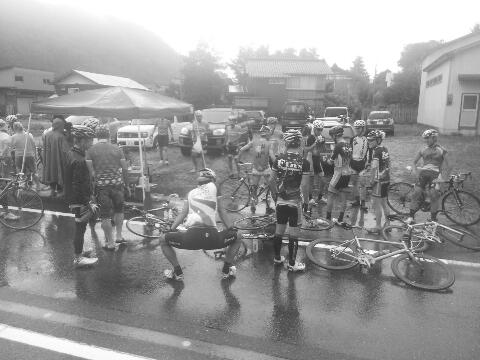 The Jyonnobi Marathon on Saturday. 10 laps. 115 km of up and down. 3000 m climbing.
This event gets bigger every year. A strong field. The best riders in Niigata and beyond. The power of facebook.
This is grassroots racing. 1,000 yen on the start line. A complimentary bidon. All the drink and food you need.
Heavy rain. A formal race would be cancelled. Jyonnobi Time don't cancel!
3,2,1 Go!
Not go really. The first lap is neutralised. I lead the riders around. Check the course. A chance to chat. Say thank you to riders who have come from far away.
I say hello to Team Ovest's Bandai san. All the way from Tokyo. I rode with him briefly at Shiori HC. A similar build to me. But more power.
2nd lap
Race time. I drop back. Slot in about 10th man. The pace picks up. Organised rotation.
It's going to be a fast race.
Up and over the first climb. I lead down the descent. Into the second climb.
Boom! Bandai san attacks from behind. Out of the saddle fighting to the top. Team Fins' Kenta san and Ito san follow before easing off.
My turn
I know how to do it. I need to catch Bandai san just before the top. Drop a gear. A seated effort. Squeeze a gap. The timing is perfect. Right before the top. I pass him. Out of the saddle now. Drop the gears. Clunk, clunk, clunk. Big ring over the top. The sounds of his gears are all I need...
He wants it! On my wheel! Here we go!
Up to speed. Aero tuck. This is where the damage is done. The gap will open here.
The bottom of the descent. One more hard effort to keep momentum. Signal him through. "Let's give it a go!"
The break
We have a good gap. Behind Fins' Tojo san is bridging. What is it they say? 2's company, but 3 have a better time? A good effort by him to get across. We start to rotate well.
3rd lap
Still lots of strong riders in the chase group. Fin's have 4 riders. In a real race they wouldn't chase. But this is training. And their Ace is still in the pack.
It's really raining now. Bandai san is strongest. His pulls are the most effective. We talk about who should lead on the climbs, flats and descents. A team effort. Working together.
A 3 man break away. I love being in the break. A max effort. The borderline between control and crazy. We are hammering it.
I count the laps 3, 4, 5. We can see the chase sometimes. Need to get out of sight...
6th lap
I can see the chase group on a long straight. Strung out. They're coming for us now. Here they come!
"Good job!" says Hayakawa san, "Let's stop for a pee!" The catch is made. No fireworks. No counterattacks. We drop the pace dramatically. Another half "neutral" lap.
Break time
We stop at the start/goal. Natural break. Fuel up. A chance for riders dropped to get back on. Thunder and lightning now.
7th lap
4 more laps. How's it going to play out? I don't think I have the legs to attack again.
Fin's Ace Adachi san sets the pace. He's flying this year. He can squeeze a gap with little effort. Into the climb he has a few metres.
Boom! Bandai san goes again! This guy's strong. There's a scramble. The steepest part of the course. I can't go. Even with a push from Ito san!
6 riders make the break. All the key players except Murayama san.
The second climb. Now Murayama san goes. I love watching him drop the hammer. He bridges at the top. I just ... can 't ... make it...
Solo
Here I am. 7 up the road. Solo. Trying to chase.
I'm going as hard as I can. Now is the chance. Once they get organised, they'll pull away quickly.
8th lap
I'm close. But not close enough. Trying to go faster than 7. They raise the pace.
With 90 kms in the legs, they won't all make it. My only hope now is to pass those that drop off the back.
This is training. So easy just to climb off. But I keep going. "Don't let them put a DNF next to your name!"
Keep going. It's not spectacular. Just grind it out. The Grinderman.
Sure enough. I pass 1... 2... 3...
10th lap
Always the hardest. Legs are gone now. Fight the rain. Fight the wind. Fight the climbs. Sprint for the line. Just for the hell of it.
Goal!
1st Adachi san (Fins)
2nd Hayakawa san (Fins)
3rd Bandai san (Ovest)
4th Murayama san (Vitesse)
5th Andy (Jyonnobi Time)
6th Kenta san (Fins)
I'm happy with my performance. A 5 lap breakaway. I didn't have the legs to go again. But I put it all out on the road. ALL OUT JYONNOBI!
A big thank you to Enosan and all the support staff. And to all the riders who came from near and far for a great ride in the rain.
Next up Yahiko Hillclimb!
Thursday: rest day
Friday: rest day
Saturday's training: Road (135 km, 3,000 m climbing)
トラックバック(0)
このブログ記事を参照しているブログ一覧: じょんのびマラソン2014
このブログ記事に対するトラックバックURL: http://www.jyonnobitime.com/mt/mt-tb.cgi/2805