total recharge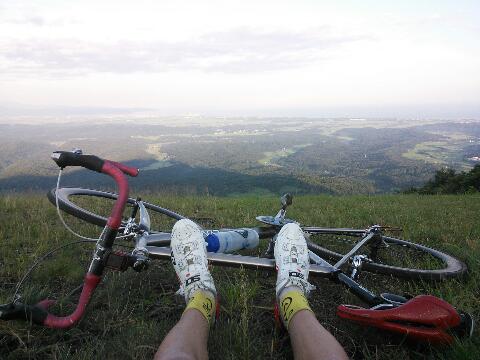 An easy ride last Wednesday. Then 3 days off. Real days off. Resting like a pro.
Unfortunately Mark had to go into hospital for 3 days. Nothing serious. But a chance to really rest.
I spent 3 days in bed with him. Playing lego. Reading books. Feet up. Taking naps...
Asaren on Sunday. Feels great to be on the bike again. At 4:30 it's 20 degrees.
An Ogami TT (25:25). I felt okay. But I can go harder.
Another climb of Ogami Dake. From Yoshikawa village it's steep all the way.
Shiba Toge, still in the low 20s. Great views at the top.
Isonobe. 8 am now and it's 32 degrees. Feel good though. 170 HR keep.
Finally, head down. A TT back to Kashiwazaki.
After that effort an easy spin this morning. Just to get the blood flowing.
Shiori Toge reccy planned for tomorrow.
Wednesday's training: Road (40 km, 250 m climbing)
Thursday: rest day
Friday: rest day
Saturday: rest day
Sunday's training: Road (120 km, 2,300 m climbing)
Monday's training: Road (45 km)
トラックバック(0)
このブログ記事を参照しているブログ一覧: total recharge
このブログ記事に対するトラックバックURL: http://www.jyonnobitime.com/mt/mt-tb.cgi/2800