before breakfast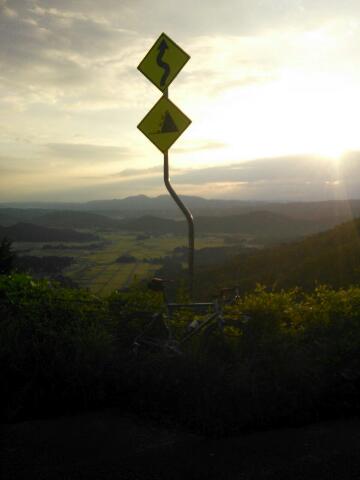 Asaren on Tuesday and Wednesday.

Monday's race simulation was a hard effort. Breaking into the 190s HR.
On Tuesday I wait to see if I wake up naturally. If I feel ready to go.

The body clock is more reliable than an alarm clock. 430 am the eyes are wide awake.
A solo ride. Nice and easy. Enjoy climbing Komura Pass as the sun comes up (140 HR max).

On Wednesday I do a loop with Nishihiro san. The legs are still a little heavy. Keep the cadence high @ 90 ~ 100 rpm.

Two hard efforts:

The Ishiji climb: I come to the front. Grind the speed up gradually. Nishihiro san on my wheel. 40 kmph. Fade slightly just before the top.

The power station climb: Same again. Come to the front. Drop the gears slowly. Build momentum slowly. Nishihiro san tries to come around before the top. An extra kick...

Training before breakfast is the way to go.
A shower. Get the kids changed. Make the breakfast. The washing up. The futons.... Time for work!
Jump on the bike again...

Tuesday's training: Road (40 km, 400 m climbing)

Wednesday's training: Road (100 km, 500 m climbing)
トラックバック(0)
このブログ記事を参照しているブログ一覧: before breakfast
このブログ記事に対するトラックバックURL: http://www.jyonnobitime.com/mt/mt-tb.cgi/2826