fast river special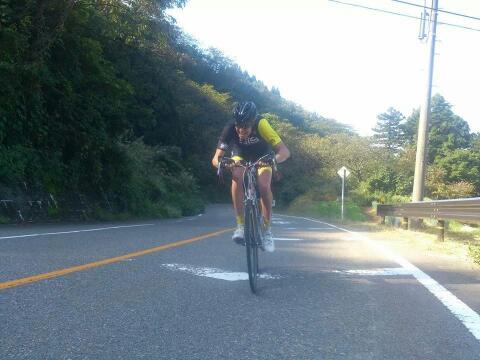 Next year I hope to take myself to another level. I want to be coached. And I want to use a power meter.
Recently Hayakawa san has started being coached. Today he tweaked his training menu for our group ride.
4am start. 50 km in the dark with Nishihiro san. 6 am group start in Nagaoka. 7 starters.
Hayakawa san's menu?
15 min

TTT

hill sprints x 5
15 min

TTT

hill climb repeats x 5
15 min TTT

7 riders. Through and off. Max effort. It's hard. Really hard. Memories of Uchinada…
7 riders become 6. Become 5. Become 4. Time up….
Not long to recover before the next effort.
hill sprints x 5
The short sharp ramp before Teradomari. I've never won this.
It's all about explosiveness. Adachi san and Morikawa san are made for this.
Today we do it 5 times. I try a different tactic each time. Get boxed in twice. But this isn't my terrain…
Great training though.
"What's next?" asks an exhausted group…
15 min TTT no.2
With a tail wind. On the coast. This is easier than the first effort.
Still it's a max effort on the front. And a max effort getting on the back.
15 minutes. Time up….
Next up Yakushi Pass.
hill climb repeats x 5
Yakushi Pass is my kind of climb. I've done repeats here before. But I have 120 km, hard kms, on the clock now.
The climb is three steep ramps with easier sections inbetween.
On the first 2 climbs I set the pace. On the front. Drop gears on the easier sections. Stop the others coming round. On the last steep section, Adachi san comes around to peak first. I run out of road...
On the 3rd climb I try a different tactic. Sit on the back. So much easier in the draft. 20 watts easier says Hayakwa san.
In HR terms, it's 165 HR instead of 175 HR. Either side of lactate threshold. I have something left to kick at the final to peak first.
Same on the 4th climb.
On the 5th climb, the others are tiring and I can peak with a comfortable gap.
Just the ride home now…
Next Sunday is Gunma CSC 120 km. Maybe the last race of the season for me. Hayakawa san and Adachi san plus Bandai san and Adam will start too. I'm hoping we can pull something off!
Friday: rest day
Saturday's training: Road (170 km, 1,500 m climbing)
トラックバック(0)
このブログ記事を参照しているブログ一覧: fast river special
このブログ記事に対するトラックバックURL: http://www.jyonnobitime.com/mt/mt-tb.cgi/2836