Happodai Hill Climb 2014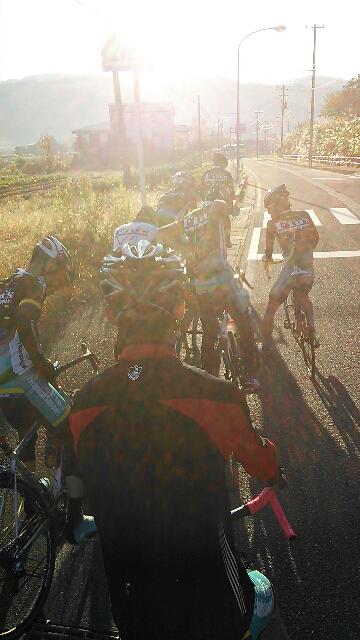 Happodai Hill Climb today. A local event run by Nagaoka Cycleshop Fins. Happodai is a tough little climb. 9 km at 6 % average. Some steep bits and a few rolling sections.
On my bike for a relatively late 5:15am start. Wrap up well. It's not so cold in Kashiwazaki which is buffered by the sea. But descending Sochi Pass into Nagaoka city it's a chilly 7C.
A nice and easy 40 km warm up. Before the start I raise the HR two times on the lower slopes of the mountain.
This climb eases in gently. I want to sit on the back. Get in an easy gear early. Waste no energy.
On the start line. Strip off the cap, windbreaker, gloves, arm warmers, leg warmers. Fresh and ready to go!
3,2,1 Go!
A nice pace set by Tojo san and Hayakawa san. Not too fast. I keep an eye on Adachi san. He starts to move to the front. He does a pull.
Then I do a pull. Through the first steep section. I have good sensations. Peel off at the top. Slot in about 4th man.
Hill climbing is a game of poker. Adachi san, the team ace, looks good on the front.
But the other two guys are suffering. Struggling to hold the wheels. I move up again. 2nd man. Lock onto Adachi san's wheel.
At around 170 HR I'm comfortable. He's in his lowest gear. I have a few to spare.
I sit there. Sit there. Never coming through. The wheel sucker. The waiting game.
When he presses hard I pull up beside him. Slow down the breathing. Relax up on the bike. "I'm not suffering" is the message. Bike poker.
2 weeks ago we did 5 climbs of Yakushi Pass. He won the first 2. I won the last 3.
I won like this. Sat on his wheel. Waiting. Waiting. Grind it out with a heavy gear over the top.
I know he won't want to drag me to the top today. So I wait there. Just sitting there. Waiting for his move.
Through the snowsheds
The turn in the road. This is critical. It steepens here. I've been dropped here before. Move side by side. We clear the steep section together.
From here it's rolling. I'm at a disadvantage now as I don't know the course so well. It's easy to lose momentum too. Difficult to find the right gear. The short steep climbs have me at 180 HR plus.
Follow the wheel. Just follow the wheel.
Then a steep narrow winding section. He's turning the screw now. My heart rate is being dragged up to about 190. This is my limit. The lights go out here. It's okay in a sprint finish, but there's still a way to go…
A gap opens. One bike length. Two bike lengths…
Then suddenly… We are descending… On the limit… Slow to react… Need to get in the big ring…
The damage is done here.
He has a good gap. He's not looking back.
I'm looking back! Not a good sign! No more bike poker!
Damage limitation time. About a kilo to go? The road starts to roll again. Out of the saddle. Desperate to find something extra. But I'm going full tilt.
Manage to keep it together. Looking for the finish around every corner. Here she comes...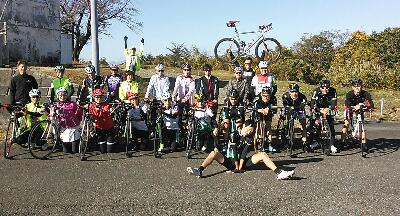 2nd over the line...
The legs and lungs are on fire. I put it all out. Just like last week. Surely that's it for 2014!?
I've been training with the Fins guys all year. Nothing beats riding with strong riders.
Looking forward to next year already!
Sunday's training: Road (105 km, 1,300 m climbing)