peak week 1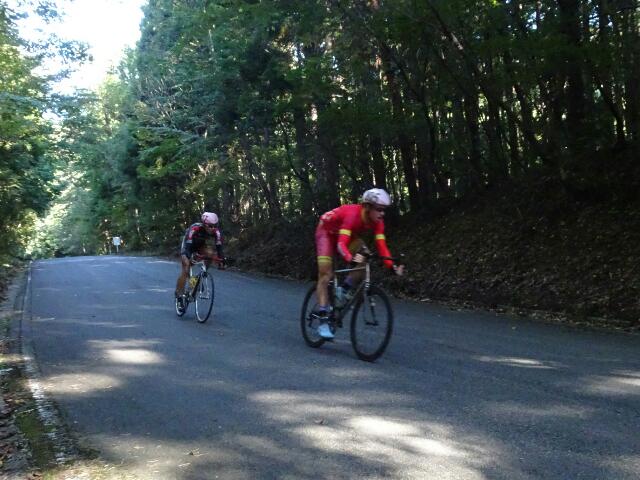 off the front at gunma csc, needed two days off to recover, must be getting old...
レースシーズン後10日間
この短い時間に
レベルアップはできない
先週と今週は
フィットネスキープ&レスト
トレーニングストレスバランス上がるように
先週のトレーニング:
日曜日のレースの後に
リカバリーが必要でした
二日間休み
月曜日: レスト
火曜日: レスト
11月3日のモテギは
2016年のラストレースです
山田さんと4時間エンジューロに出る
シーズンインのTokyo Enduroと同じように
1人で2時間がんばる!
そのために
朝練ローテーションは良い練習
水曜日: 朝練ローテーション
木曜日: 朝練ローテーション
金曜日はゆっくり寝て
朝練なし
午後に
米山のKOMアタック!
25分のAJ!
Tojoさん、後半強い!
フェースブックで書きました:
>>>>>>>>>>>>>>>>>
今日は米山登山道の
3回目のアタック!
6.6キロ、8%のきつい坂道です
前半は5%位?
KOM勝っている!
後半は10%位?
負けている!
本当に死にそう❗
小村峠
登って下って
入口までは
柏崎から一時間位
上の気色は最高ですから
今度チャレンジしてください!
よろしくじょんのび
>>>>>>>>>>>>>>>>>
金曜日: 25分AJmax
土曜日は先週の3回目の
レストデイ
「ライドハード
レストイージー」
土曜日: レスト
日曜日はロングの気分
5人で200キロ
やっぱりロングが大好き
皆さんありがとう!
日曜日: ロング
モテギの後に
雪が降る前に
またロングに行きましょう!
ピークウイーク 1, 17.5 時間, 500 キロ, 750

TSS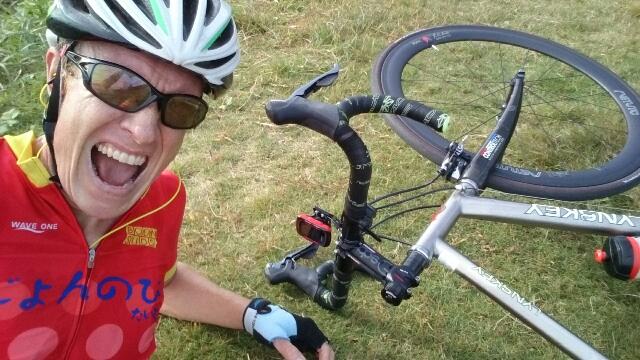 mt. yoneyama, didn't even have the strength to unclip, been a while since I've gone that hard on a climb...
After last week, just 10 more days of the season remain.
Impossible to gain fitness now.
Last week and this week are about resting and maintaining fitness.
Try to raise the Training Stress Balance.
Last week's training:
After Sunday's race it was important to recover. 2 days off.
Monday: rest
Tuesday: rest
On November 3rd I'll race Motegi with Yamada san. We'll team up for the 4h enduro.
Similar to our season opener at Tokyo Enduro, we'll race 2 hours each.
Asaren with him on Wednesday and Thursday simulates the effort required.
Wednesday: pair asaren
Thursday: pair asaren
I skip asaren on Friday in favor of a few extra hours in bed.
Later I do a KOM attack on Mt. Yoneyama. A 25 minute full out effort. Racing a virtual Tojo san. He's strong till the finish!
I wrote about it on facebook:
>>>>>>>>>>>>>>>>>>>>
The town where I live is dominated by Mt. Yoneyama which rises out of the sea to a height of almost 1,000 m.
When I first moved here 15 years ago I was awestruck by its beauty. A snow capped mini K2.
There are lots of hiking access roads on the different sides of the mountain, but these are gravel tracks. No good for a road bike.
So it was a great surprise when I found one of them to be tarmaced over in the summer.
It only goes half way up. But a nice 6.6 km hill climb at average 8%.
That doesn't tell the whole story though. Its concave profile means it's a big ring shallow grade at the beginning with a 12 to 15% kick at the end.
My third attempt today.
On the first attempt I stole the KOM (25 mins). On the second attempt I was a minute short (26 mins). And in the meantime the KOM has been cut to 24 mins.
I went out to try and get it today.
In the world of power meters and heart rate monitors, all that really counts is time and speed. "23:54" and "16.6 kmph" marked on my stem.
By 1.5 km I'm 25 s up. Still 25 s up at 2.5 km.
Then the road kicks up. A tough steep concrete section. Even a 36 × 28 gear isn't enough here.
And there is no real respite after that.
I'm trying to keep the average speed above 16.6 while counting down the 6.6 km.
But it only gets steeper!
After holding 174 LTHR for most of the climb, I'm up to 187 HR as I try to steal it.
But... I just... don't... make it.
16 seconds short on the line.
Put it all out. Fall onto the grass still clipped in. It's been a while!
This is what cycling is all about!
Turning yourself inside out!
For nothing other than the pleasure of the pain!
Get on it!
>>>>>>>>>>>>>>>>>>>>
Friday: 25 mins full gas
Saturday is the third rest day of the week.
"Ride hard. Rest easy."
Saturday: rest
On Sunday I fancy a big ride. 200 km with the guys. This is my forte. It's nice to remind the legs sometimes.
Sunday: long
After Motegi it will be nice to get in a few more rides like this before the snow comes....
peak week 1, 17.5 h, 500 km, 750

TSS
トラックバック(0)
このブログ記事を参照しているブログ一覧: peak week 1
このブログ記事に対するトラックバックURL: http://www.jyonnobitime.com/mt/mt-tb.cgi/2997