magazine Q & A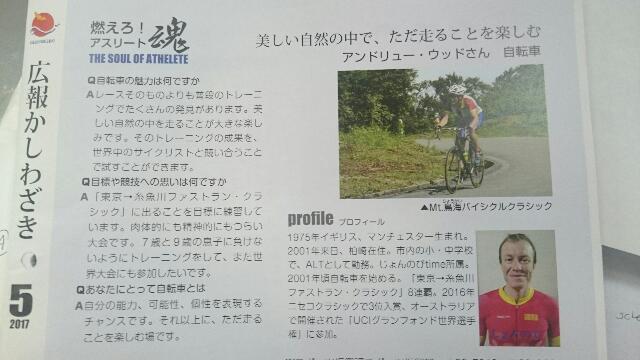 may's edition of the koho kashiwazaki magazine
This month I was featured in the local monthly magazine. Almost 16 years to the day that they interviewed me after arriving in the town and receiving an old Kalavinka steel road bike to explore what was on offer...
The bike is newer, but the body's older! Here's the original article in English:
Burn it! The Athlete's soul!
Profile:
Born in Manchester, UK in 1975. He came to Japan in 2001. At that time he started road cycling. He joined the Kashiwazaki local team "Jyonnobi Time". He has won the Tokyo - Itoigawa 300 km cycling event 8 times. He took 3rd place in the Niseko Classic in 2016, which enabled him to participate in the Gran Fondo world championships held in Australia.
Q1: What is the appeal of the sport?
A1: More than racing, I enjoy the training routine and discovering how far I can push myself. The type of training changes through the year, building strength and base fitness in the winter, before trying to peak for target races in the summer.
Cycling in the beautiful Niigata countryside gives me great pleasure. Just to be outdoors and riding my bike would be enough.
Competition is a chance to compare my strength with that of other like minded cyclists.
Q2: What are your goals and thoughts on the sport?
A2: I target the 300 km Tokyo – Itoigawa each year. It is a tough event both physically and mentally. I also hope to participate in the Gran Fondo World Championships again in the future.
Above everything, I will keep the training up so that I can keep up with my 7 and 9-year-old boys!
Q3: What is bike racing for you?
A3: It is an opportunity to express my ability and to see the results of my training. But at the end of the day, to enjoy riding with others is the most appealing thing…
トラックバック(0)
このブログ記事を参照しているブログ一覧: magazine Q & A
このブログ記事に対するトラックバックURL: http://www.jyonnobitime.com/mt/mt-tb.cgi/3023