yahiko 18:20 (PB)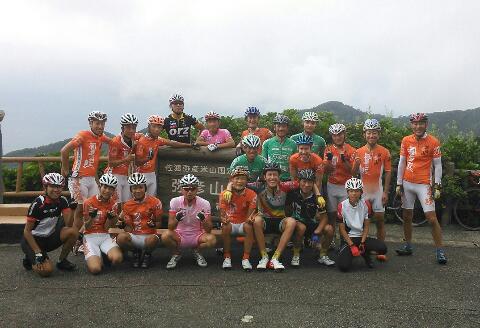 Mt. Ogami Dake on Friday. Tempo pace. The "easy" approach. Keep something in the tank for the weekend.
Saturday's Yahiko attack is postponed to Sunday due to rain. Good for me really. A chance to rest up.
Sunday morning
4:30 am. It's wet again. But the forecast looks okay.
50 km on the coast. Out to Mt. Yahiko. No Nishihiro san today. A bit lonely. But I enjoy the tail wind.
A warm up
One climb of Mt. Yahiko from the "easy" Nozomi approach.
Strip the weight off at the bottom. Two lights. 1 bottle. Two bananas. 4 soy joy bars.
30 minutes at 150 to 160 HR. Bring the climbing muscles into play.
Descend the steep side. Meet the guys at the bottom. The guys! There are about 30 of us today! Lots of young guys. A few dads and kids too. This is what cycling is all about!
7:00 am
Riders set off in intervals. The aim is to reach the summit at 7:30. What's your target time? I'm aiming for around 19:00 to get my PB.
Set off second to last in a group of 4. "Watanabe san, pull me up the hill!"
Tazaki san will give us a 1:30 start. His carrot up the road. Gone are the days when we used to start together!
3,2,1 Go!
Nothing like starting the "lap" function to give you a boost!
Full gas. Pass Numa san and his friend. Try to get the HR up. Get up to speed quickly.
This climb is a constant 10 / 11 percent grade. So it's easy to get into the zone. And hold it.
Look back to see Watanabe san closing. He comes up the inside. "Onegaishimasu" ("please") is all I need to say.
Lock onto his wheel
We are different riders completely. He's lightly built. A pure climber. His body rolls over the bike as he puts everything into the road. He moves around the road too. But I like following his wheel.
At times I feel like we are not going fast enough. I pull past him. He slots in behind. But it's not long before he comes around again.
A few weeks ago I sucked his wheel all the way to the top. I followed his attacks. And jumped him at the end.
"Sorry about that" I said. Now once is cheeky. Twice would be rude.
This time I work a little more. But not much more. He does two out of the saddle accelerations. But I can follow.
This is his home turf. He knows the climb. When to shift. When to dig.
For a non-cyclist, a gear shift sounds just like that, "a gear shift". But for a cyclist we take much more. We instinctively know if it's up or down. The way it clicks in too. Is it the right choice? Is he keeping momentum? Better still, accelerating?
You have to shift quickly. Shadow the moves. Keep it tight.
As we come out of the hairpins I come to the front. Test the water. Push a little harder. I gap him. He comes back. "Sumimasen" ("sorry about that").
Hill climb psychology
Just a word. One word exchanged.
Now the steep section. I can follow him here. This is satisfaction for me.
We are approaching the finish. I wait for his acceleration. He won't want to be caught out like last time.
Clunk. Clunk. Here it comes! It's a good one!
I've been working on seated sprints. Hands close to the stem. Push. Pull. Push. Pull. 187 HR max effort. But he's gone. Just the time now…
Beeeeep
18:20. A new PB! Thank you Watanabe san!
Yahiko Dairo 18:20, 81 cadence, 175/187 HR
Next Sunday I'll race this course in the Niigata Hillclimb Race. Can't wait!
Friday's training: Road (55 km, 900 m climbing)
Saturday: rest day
Sunday's training: Road (125 km, 1,300 m climbing)
トラックバック(0)
このブログ記事を参照しているブログ一覧: yahiko 18:20 (PB)
このブログ記事に対するトラックバックURL: http://www.jyonnobitime.com/mt/mt-tb.cgi/2816