the best mechanic in the world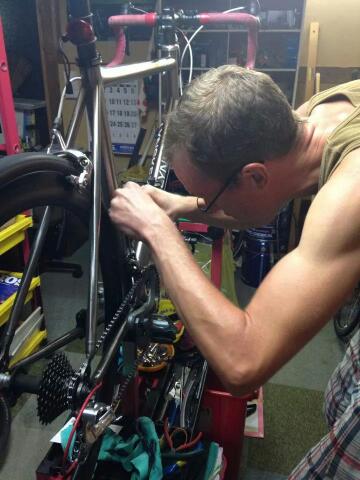 The fix
Some people think you should be able to do all your bike maintenance yourself. Strip the bike down. Put it back together. With a blindfold on!
Me? If I have a sore tooth I go to the dentist. If I have bike issues I go to CS Enosan!
I'm lucky to have Enosan around the corner. An amazing mechanic. Generous with his advice. Generous with his time. The door is always open.
I call around on Friday night. I need some derrailleur adjustments. But Enosan is out drinking. If he was here, he'd grab a screwdriver. Give it a twist. "Good to go!" And we'd crack open a beer...
I usually have a "no touch" policy. But how hard can it be? Just twist a few screws. See what happens...
Nothing like overconfidence to make a small problem worse! Now the gearing is really messed up!
I get Enosan on the phone. He tries to talk me through it. It's no use.
"I'll fix it for you in the morning"
"I've got asaren in the morning"
"What time?"
"4:30"
"I'll fix it at 4:00"
I'll fix it at 4! Not even pros get this kind of service!
Saturday morning. 4:15 at CS Enosan. The bike is "ready to go!" The best mechanic in the world!
The ride
A 4:30 am start with Nishihiro san. A 6am rendezvous in Bunsui with Team Fins. A 40 km warm up.
A dry start. 10 km in and it's raining cats and dogs. R116 is like a river. Pitch black. Spray everywhere.
We make Bunsui in just over an hour. Time to kill. Shivering in the cold.
By the 6am start I've lost the feeling in my fingers and toes. All the oil from my chain too. All you can do is ride hard!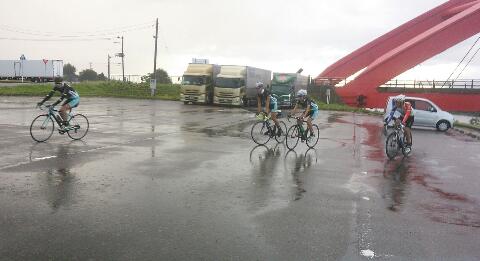 5 riders start.
In Teradomari it's so wet the brakes don't work. Heading back to Kashiwazaki some sunshine on the horizon.
The power staion climb. Finally get warm.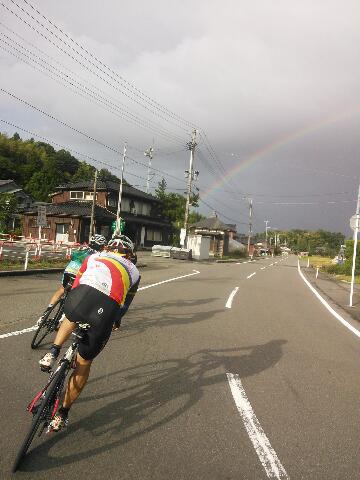 Dry through Kariwa. A beautiful rainbow. But the rain starts again.
Dry at last in Takayanagi. 120 km on the clock. The first and only big climb of the day. Up to the tunnel to Tokamachi. It's longer than I remember. Adachi san sets the pace. Grind up the HR. A nice climax to a great ride.
I say goodbye at the top. A 30 km warm down home.
Saturday's training: Road (150 km, 900 m climbing, 35 kmph)