why I love gatorskins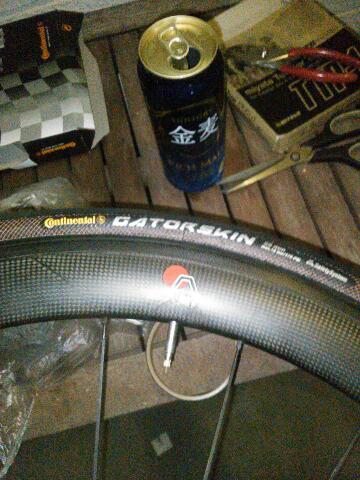 Switching the tyres. Race tyres to training tyres. Most people switch race wheels to training wheels. I'm lucky to be able to train and race on Astuto 50mm carbon tubulars.

A recovery ride on Monday on the Vittoria race tyres. Soft and spongy. But they roll well. 70 kmph plus on the descent of Nakayama Pass.

Put the gatorskins back on on Monday night. The ultimate training tyre.

Mounting the gatorskin tubulars is easy. They centre themselves nicely.

These are rubber tyres with a rubber sidewall. At 4 bar they are hard. At 9 bar they are rock solid.

Thick rubber too. Maximised puncture prevention. I ride these tyres right down to the thread.

Tyres swapped. Pick the bike up. Is it just my imagination? It feels heavier...

Heavier tyres, increased rolling resistance, a stiffer ride.
Is weighed out by reliability, durability and reduced puncture risk.
Monday's training: Road (50 km, 500 m climbing)
トラックバック(0)
このブログ記事を参照しているブログ一覧: why I love gatorskins
このブログ記事に対するトラックバックURL: http://www.jyonnobitime.com/mt/mt-tb.cgi/2821